PTMC allows creating as many workspaces as you want. Manage and switch over them with one click. As well you can detach necessary panels on another monitor and manage by workspace tabs.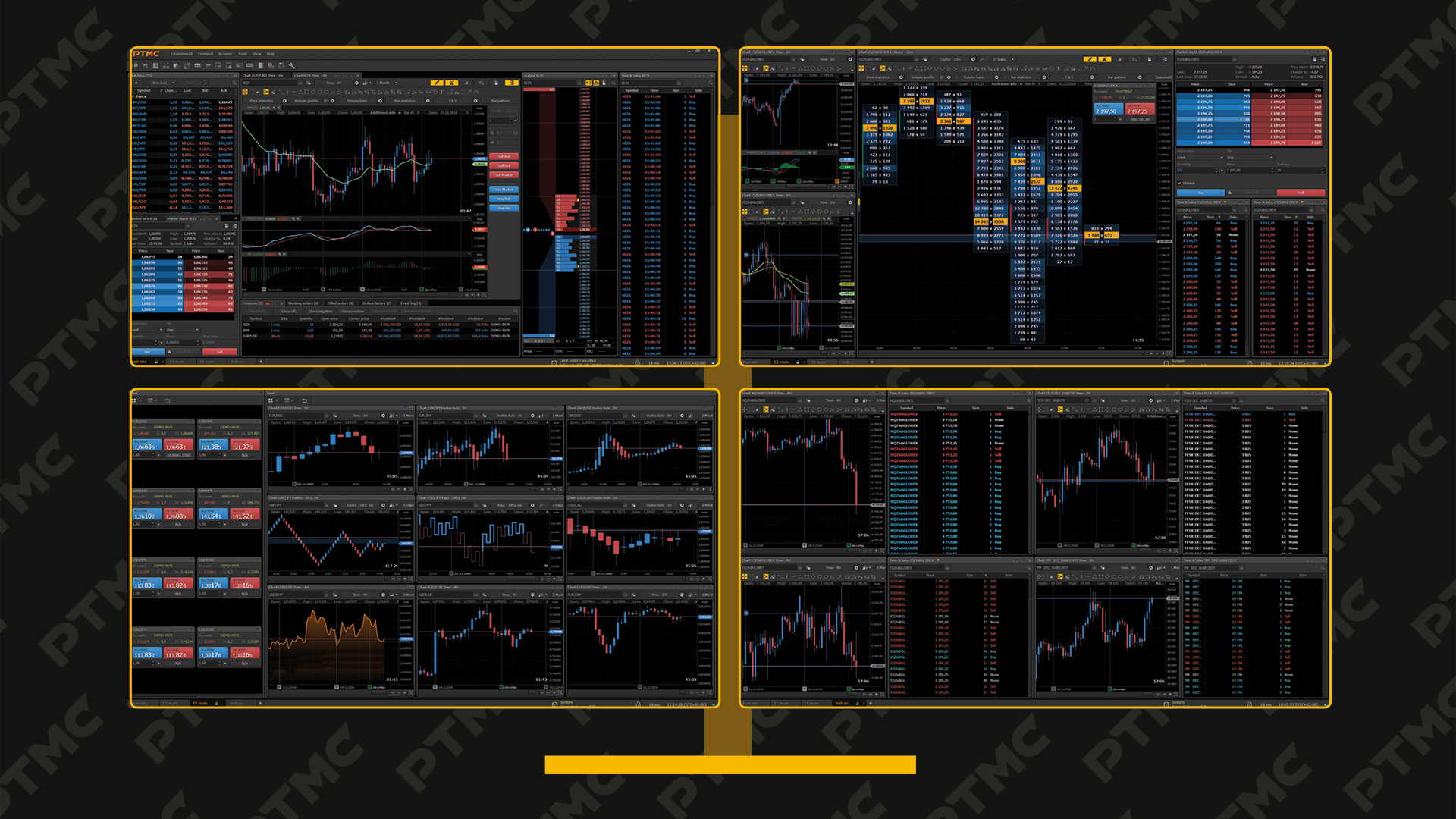 Workspaces
A workspace is a particular configuration of panels, toolbars, charts and/or table layouts that makes up trading environment. Protrader for Desktop provides a predefined default workspace and allows to create not more than 20 custom workspaces either by modifying the default settings or by creating a new workspace from scratch. Custom workspaces can be saved as .wrk files and reopened whenever required.
Default workspaces
Protrader for Desktop will automatically load the default workspace upon startup. Default workspaces are located in the Protrader installation directory \DefaultWorkspaces\
Click Environment ->Workspaces to see all available default workspaces.
After making changes to a workspace, it becomes a custom workspace. Custom workspaces will automatically ask to save changes when closing Protrader Desktop. You can save it to the server or locally to your computer. If saved on the server side, the custom workspace will not need to be migrated if you switch to a new computer.
Note: Brokers sometimes forbid saving workspaces on their servers. In this case Content manager window will not be available in the Context menu.
Keeping multiple workspaces open
During session, several workspaces can be loaded and kept open simultaneously. All opened workspaces are shown in the bottom of panel. User can switch between the open workspaces by toggling the tabs.
Getting a Blank Workspace
New blank (no panels) Workspace can be created by three ways: through Environment menu, through Context menu of Workspace manager or by clicking on 
.
Context Menu
Right clicking on the tabs of opened workspaces allows opening Context menu of Workspace manager.
New workspace– allows creating blank workspace, also available in Environment menu.
Load workspace – allows loading workspace from .wrk file, also available in Environment menu.
Save workspace, Save workspace as… - allows saving current workspace, also available in Environment menu.
Clone – allows creating the same workspace as current.
Close all but this – allows closing all workspaces except current.
Clear - allows clearing current workspace.
Rename – allows changing title of current workspace.
If workspace is locked, then all panels that are opened through main or context menu, as well as through instrument toolbar, will be opened in the detached form.
Closing Protrader for Desktop
It is not needed to save changes when close the application, because workspaces are saved automatically. But on closing a warning message will appear. It is possible to uncheck the Show Next Time box and message won't appear again.
PTMC Features