ADDITIONAL TRADING PLATFORMS OFFERED BY ITG FUTURES
To request FREE DEMO access to any trading platform listed in this section, fill in contact form, and make sure to indicate which Demo you would like to recive. Most platforms will give you free access for 14-30 days. 
Introducing
AbleTrend
AbleTrend is Timeless & Universal

You've seen how AbleTrend has protected traders against major market panics, but in today's increasingly complex financial system, you need a trading system that not only will keep up, but gets better through volatility.

And the only way that you can be sure a system will continue to thrive is if it is universal. Technological advances have erased any possible advantages achieved through "information arbitrage", and have introduced "High Frequency Trading". While this all sounds scary to the average investor, see how AbleTrend remarkably protected traders leading up to the first notable flash crash in May 2010.

Never Lose Sight of the Big Picture
The best trades are those where the short term and long term trends agree. AbleTrend makes it easy for you to see the big picture and short term side by side.

See the Market Trend At-a-Glance
AbleTrend can run over 30 workspaces at one time, and up to 40 charts per workspace. Configure your charts, then track & manage total portfolios at-a-glance. Plus, new to AbleTrend, Multi-Screen support. Pop out whole workspaces to view on your multi-monitor set up.

Trade with the Strong Hands
You can overlay indicators from any time frame and symbol onto other different charts. By overlaying weekly indicators onto a daily chart, we can see the long-term levels more clearly to help us with trading decisions.

Never Miss Another Opportunity
AbleTrend's Autoscan feature can help you to dynamically monitor your watchlist for trades with a click of a button. When you've got a growing watch list, it is critical that you have a systematic process for keeping up with the incoming signals.

Created by Traders for Traders
The buy & sell signals are the core of AbleTrend. With our intelligent workspace design, operating the software is simple and intuitive so you can focus on the signals, and not on operating the software.

Buy/Sell Confirmation with Ichimoku Cloud
New in AbleTrend, seamlessly combine AbleTrend with Ichimoku analysis. Combined with AbleTrend Signature Guidance Charts, you can achieve four levels of trend confirmation, with entry, exit and trade management signals.

Real-Time Streaming Data Connections
AbleTrend is tied-in to pull live data for stocks & futures from the top data vendors, and broker supported feeds. Check the data feeds information page to see if you have access to one of the supported feeds. *Plus, new to AbleTrend 8, connect with multiple data sources simultaneously.

We also offer the AbleTrend trading system as an add-on for TradeStation, NinjaTrader, and eSignal
CONTACT US FOR FREE DEMO
Introducing
DTI RoadMap
When you trade with your own money and a trade starts to go against you, it's easy to get disoriented and let your emotions take over.

Trading requires you to have a plan, be calm and be confident.

To do that, you have to trust your controls — your dashboard, just like a pilot.

Direction. Timing. Probability.
RoadMap™ software is the set of controls my first student, Geof Smith, and I developed to prove the method and thereby transfer confidence and calmness to our students.

RoadMap™ Compass
The Compass is the heartbeat of the DTI Method, answering the question of long, short or out. You get a metrics box of key numbers to trade any market, plus buy and sell zones based on historical price action that can trigger trade entries using breakout or value based trading strategies.

RoadMap™ ETR
The ETR (Electronic Tape Reader) was designed to emulate the old school Globex Terminals (ticker tape), so you can utilize tape reading strategies to trade. The ETR page helps you answer the crucial initial question: "Should I be long, short, or out of the market?"

Portfolio Manager
A proprietary tool included with the RoadMap™ Software that functions as a momentum scanner. The Portfolio Manager will alert you to what markets are trending off the current reference bar. The row of each market will light up green or red when it enters the buy or sell zones. This is our first indication of which markets are trending.

Horse Race
DTI's Horse Race visually displays the percent change from open in an easy to understand bar graph so you can determine strong and weak markets. Any stock, ETF, futures or commodity can be added to the Horse Race, providing you efficient visual ques to what is trending and what is not - the key to making money trading momentum.

DTIC Report - RoadMap™ Seasonality Screener
A favorite tool of DTI's Chief Instructor Goef Smith, the DTIC Report is our proprietary swing trading stock scanner. The DTIC (DTI Code) Report will scan 10 years of historical data to find the highest probability swing trading setup for any stock traded on U.S. exchanges. This report is dedicated to the swing trading enthusiast who understands the importance of seasonality and each stock's unique "code" for how it tends to behave throughout the year. Industry and business cycles, earnings trends, and stock movement based off economic reports can all be captured with this unique scanner. Our DTIc tools are truly a swing trader's dream.We also offer the AbleTrend trading system as an add-on for TradeStation, NinjaTrader, and eSignal
CONTACT US FOR FREE DEMO
About the Founder
---
Diversified Trading Institute ("DTI"), was founded in 1996 by Tom Busby, a professional securities trader and broker since the late 1970's. Tom started with Merrill Lynch in 1980 and in 1984 became Vice President of Smith Barney.
Quoted and published in Active Trader magazine, Tom actively trades and invests in stocks and options. Guest appearances include CNN, First Business News, MoneyShow.com and Steve Crowley's American Scene Radio. Recognized as one of the first educators to trade live in front of an audience, Tom authored Winning the Day Trading Game, Trade to Win, and The Markets Never Sleep.


"Every morning I know new challenges face me. I do not fear those challenges --  I look forward to them. Trading generates a good living for my family and me, and it allows me to live my life on my terms."

Ensign Charting Software
ENSIGN 10 is powerful Charting and Technical Analysis Software used by Traders, Investors, and Brokers around the world. Make better trades. Make more profits. Use the best trading tools. Join other traders in successfully trading the markets. Use the Play Back feature to practice your trading with real tick data! Download a free trial today!

- Watch Video tutorials
- Discover powerful Charting software
- Learn about the Play Back feature
- Chat with other Traders
- Data Feeds, including free Forex
- View Charts, Studies, and Tools
- See additional Help resources
- Start your ENSIGN subscription

Charting Software for Traders
Since 1981, Ensign Software has been providing traders, investors, and brokers with great charting software. Whether you day trade the markets or make long term decisions, Ensign has everything you need to watch market trends and analyze trading opportunities. Ensign's proprietary Play Back feature allows you to practice your trading anytime with real market data. Ensign also provides a FREE live Forex data feed and historical charts with your Ensign subscription. All this, plus much, much more...for only $49.95 per month !!!

Powerful and Easy
We know that learning new software can be stressful. That's why we made Ensign...easy to download...easy to learn...and easy to use. Subscribe today and take your trading to a higher level !!

Ensign supports many Data Sources
Ensign accepts live market data from Cannon Trading, TransAct Futures, TD Ameritrade, Interactive Brokers, TraderBytes.com, DTN IQFeed, eSignal, BarChart.com, Ninja, and FXCM (FREE).

Get Help when you need it
With a dedicated team of Software Support specialists, a free chat room to get help and tips from other traders, easy to follow video tutorials, a comprehensive knowledge base, and detailed help documentation, you know that your success is our success.

Technical Analysis Software
Traders around the world appreciate the power and flexibility of Ensign Charts. Ensign can display a chart for any symbol in any time frame (including Constant Range, Constant Volume, and Constant Tick charts). Dozens of technical studies and draw tools can be applied to any chart, including the proprietary Ensign Map study (one of the most advanced forecasting tools anywhere).

Ensign Chat Rooms
Ensign offers free Chat rooms for use by all traders. A growing community of dynamic traders use Chat to exchange ideas and share chart images and strategies. The Chat feature is built into the Ensign program.

Trading Mentors
The following trading mentors offer various services and trading strategies. If desired, you can learn more about these trading educators and decide for yourself if a particular mentor offers a service that you want.
CONTACT US FOR FREE DEMO
Genius Station
La plateforme de trading Ai
Algorithme de trading augmenté par l'intelligence artificielle et Autotrade avec money et risk management pour un trading 100% automatique.
Stratégies de trading automatiques
L'algorithme Genius Ai détecte les meilleures opportunités de marchés et vous propose les meilleures stratégies.
Gestion automatique de vos opérations
Confiez à Genius Ai l'envoi de vos opérations chez le broker et optimisez votre gestion avec les fonctions de risk et money management.
Détection des manipulations des marchés
Les indicateurs exclusifs développés par Genius Ai, détectent et vous informe des stratégies des markets makers.
Perfectionnez vous sans risque avec Genius Game
Utilisez les mêmes outils d'opérations, dans les mêmes conditions de marchés pour vous entraîner. La simulation de trading la plus réaliste.
Brokers compatibles Autotrade
Connectez votre broker comparez le avec les autres et profitez des performances automatiques de Genius.
Installez l'app Genius
Tout Genius dans votre mobile. Algorithme Ai + Autotrade + TV trading live 24/7
CONTACT US FOR FREE DEMO
Jigsaw Daytrader
Finally, see behind the chart data at the fascinating interactions between buyers and sellers in real-time. With years of working with professional traders, we know exactly what they do and don't use to make trading decisions based on these interactions. Our focus is the price ladder, with a host of supplementary tools and charts to help you make decisions about which trades to take and which positions to hold. The Jigsaw day trader platform gives you the information and the confidence to make trading decisions you can rely on. If you want to feel like you are finally in the control of your trading, daytrader is for you. Not only that, daytrader is simple to setup, doesn't contain hundreds of configuration options and delivers exactly what you need out of the box.
Jigsaw day trader also has multiple layers of redundancy built in so that it's always there when you need it and doesn't fall behind in fast markets, like our competitors do.
There is no trading technique you can learn today and profit from tomorrow. At Jigsaw, we recognize that trading is a skill and we give you the tools to develop your trading edge and iron out your problems. All customers get lifetime access to the basic version of our groundbreaking cloud-based trade analytics platform "Journalytix". Your trade history is posted to a secure area on our servers automatically (no uploading required), where you can analyze the results to find patterns in your trading data you didn't know existed. Not only will Journalytix help you find buried treasure in your trading data, it'll help you iron out issues such as moving your stops and closing trades early.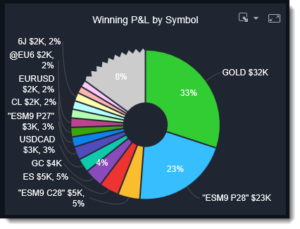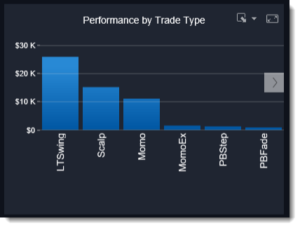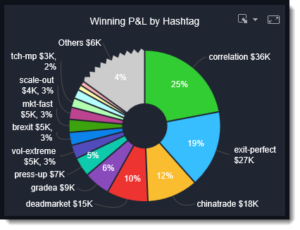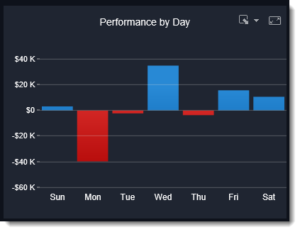 For advanced users, Journalytix also has a real time audio market data feed, economic news calendar with 1 min and 5 minute warnings before a release, automated trade journal and numerous features to make it your essential personal Digital Trading Assistant.
There's no getting away from the fact that todays markets are news-driven. It's news that brings volatility into the market. Even if you don't trade the news, it pays to know if any new move under way is driven by news – either scheduled or just 'out of the blue'. Jigsaw daytradr has a built in real-time audio news squawk and an economic release calendar that updates results in real-time. This leaves you well equipped to know when to stay out of the markets and when a new move is driven by something that is likely to be bringing institutional money into the markets.
News is fully customizable, you can select from resources such as Bloomberg, Reuters, Forbes, Zero Hedge etc. For the Economic Release calendar, we cover every country on the planet. For more on how this works, take a look at the video below:
CONTACT US FOR FREE DEMO
LA Chart
Welcome to Larmee Associates! Offering custom programming for traders. We can make your ideas come to life.
We specialize in custom programming using your trading methods.
Automated Trading Systems
Does your electronic broker offer an application programming interface (API)? We can program a custom front-end based on your trading strategies. Through these API's, you can automatically check market prices and submit orders according to your rules. The only limit is your imagination! We've developed literally hundreds of applications that work with the most popular trade platforms. T4 (CTS), OEC Trader, DTN IQFeed, Interactive Brokers, and NinjaTrader.
Custom Programming
We can tackle just about any programming project you can envision on the Windows platform. Stand-alone custom programs are our business. We can write programs to back-test your strategy. We can create custom trading softwares, crunch numbers or communicate with your electronic broker -- really just about anything.
Surprisingly Affordable!
Our experience and library of reusable modules allows us to quickly deliver a custom product built to your specifications. And, we price by the project not by the hour -- so, you will know up-front what the complete project will cost.
Quick Turn Around
Depending on the size of the job we can turn around most custom requests much sooner than you would expect.
Quality Guaranteed
Our plain English guarantee: "If it isn't right, we'll fix it for free."
Strict Confidentiality
Your ideas belong to you. We promise never to give out your ideas to another customer and never to use them ourselves.
Free Consultation
What have you got to lose? Call Larmee Associates today and together we' ll turn your ideas into reality.
LA Chart
LA Chart is a full function charting program with all of the great features you'd expect from Larmee Associates. Our heritage is custom programming and that's allowed us to work closely with traders for many years. The result is that we've been able to use our experience to create a charting program that has everything you need without a lot of clutter.
Clean and Simple
We've seen a lot of charting programs over the years and quite frankly, have not been impressed. There always seems to be a forest of buttons with funny looking symbols for things you would never use. LA Chart is different. It has a
clean and simple look and feel that traders really appreciate. You do almost anything by clicking and dragging.
Supports Multiple Data Feeds
The other problem with most charting programs is that they only work with one data feed. We have designed LA Chart to work with several data sources so that you don't have to learn a new charting platform just because the data is coming from a different place.
Highly Customizable
Our heritage is custom programming. If you have an indicator that's specific to your trading style, we can add it to LA Chart and only you will have access to it. LA Chart is a great platform for adding your personal indicators and signals. Our development staff has a lot of experience working with traders. Just give us a call and we'll be happy to work with you.
Products

Our heritage is custom programming - working closely with traders to develop custom applications. But, over the years we have sometimes seen the same requests over and over again. And, without compromising our clients' proprietary methods, we've developed a few products that we can offer as solutions to common needs.


All of these products have grown out of requirements that traders have brought to us and have been heavily used by traders in their day-to-day activities. So, in a very real sense, they are designed by traders, for traders.


LA Chart is a general purpose charting package. It can use any of several data feeds to deliver clean, easy-use-charts. It's a great charting package right out of the box. However, one of its strengths is that it can be used as a platform for any of your custom strategies. We can display custom indicators or even trade using your custom chart-based strategy.


LA Spreader is a general purpose auto-spreader that uses the T4 (Cunningham) interface to enter spread positions in two markets. The markets can be similar - like two different months of the same contract - or completely unlike. The tool can be used to spread any market against any other market.


LA Spreader OEC
We've had such a great reaction to our LA Spreader product so we decided to make it a version use the OEC Trader platform as well. All of the same great features. Finally you can have auto spreader capabilities with the OEC Trader platform.


LA Spreader Charts (LAS Charts) allows you to analyze any spread showing you the charts for both legs of the spread as well as for the spread market itself. This product allows you analyze any kind of spread -- calendar spreads, ratio spreads, inter-market spreads, synthetic spreads. Great for traders who are looking for opportunities spreading new markets. The product uses the popular Cunningham (T4) interface for market data.


LA Alerts can alert you either on your computer or by text or e-mail whnever a significant occurs in the market. LA Alerts is an add-on application for the popular T4 (Cunningham) platform.
CONTACT US FOR FREE DEMO
StockSharp
S#.Designer - free designer of trading strategies. Low-code platform. The intuitive interface. Strategies "programming" by mouse or in C#. Built in back tester and trade connections to all markets (including US, Asian, stocks, futures, options, Bitcoins, Forex, etc.).

Many types of connections: FIX/FAST, LMAX, Rithmic, CQG, Oanda, FXCM, Fusion/Blackwood, Interactive Brokers, OpenECry, Sterling, BarChart, IQFeed, E*Trade, BTCE, BitStamp, BitStamp, Bitfinex, Coinbase, Kraken, Poloniex, GDAX, Bittrex, Bithumb, HitBTC, OKCoin, Coincheck, Binance, Liqui, CEX.IO, Cryptopia, OKEx, BitMEX, YoBit, Livecoin, EXMO, Deribit, Huobi, KuCoin, BITEXBOOK, CoinExchange, ITCH, QuantFEED.

S#.Data (Hydra) - free software to automatically load and store market data.
A great choice of market data sources: Yahoo Finance, Quandl, FinViz, FIX/FAST, LMAX, DukasCopy, TrueFX, Oanda, MBTrading, GainCapital, Rithmic, Blackwood/Fusion, Interactive Brokers, OpenECry, Sterling, IQFeed, E*Trade, BTCE, BitStamp, BitStamp, Bitfinex, Coinbase, Kraken, Poloniex, GDAX, Bittrex, Bithumb, HitBTC, OKCoin, Coincheck, Binance, Liqui, CEX.IO, Cryptopia, OKEx, BitMEX, YoBit, Livecoin, EXMO, Deribit, Huobi, KuCoin, BITEXBOOK, CoinExchange, ITCH, QuantFEED and many other.

Supports all markets (American, European, Asian, Russian; stock, futures, options, bitcoins, forex, etc.).

History and real-time market data of all types (candlesticks, level1, level2, ticks, order books, order logs, open interest (OI), options, bonds and many other types).

S#.Terminal - free trading charting application (trading terminal).
Lots of connections: FIX/FAST, LMAX, Rithmic, Fusion/Blackwood, Interactive Brokers, CQG, Oanda, FXCM, OpenECry, Sterling, IQFeed, E*Trade, ITCH, QuantFEED, BTCE, BitStamp, BitStamp, Bitfinex, Coinbase, Kraken, Poloniex, GDAX, Bittrex, Bithumb, HitBTC, OKCoin, Coincheck, Binance, Liqui, CEX.IO, Cryptopia, OKEx, BitMEX, YoBit, Livecoin, EXMO, Deribit, Huobi, KuCoin, BITEXBOOK, CoinExchange and many other.

S#.API is a free library both for beginners and for experts in algorithmic trading.
S#.API has been designed for C# programmers who use Visual Studio. S#.API lets you create any trading strategy, from long-timeframe positional strategies to high frequency strategies (HFT) with direct access to the exchange (DMA).
CONTACT US FOR FREE DEMO
Track'n'Trade
Commodities, Futures & Options
Execute Advanced Single & MultiLeg Commodity Option Strategies
Experience AI Trading with Sophisticated Auto-Pilot Features
Gain an Edge with Proprietary Bull's 'n Bears Trading System
Manage Commodity Contract Spreads Like Never Before
Practice Your Skills with a $50,000 Paper Trading Demo Account
Stocks, ETFs, & Options
Seamlessly Trade Stocks, ETFs, and Options with Precision
Take Advantage of Single & MultiLeg Options Trading Capabilities
Command Your Trades with Intuitive Drag 'n Drop Order Placement
Outsmart the Market with Our Award-Winning Bulls 'n Bears System
Hone Your Strategies with a $100,000 Paper Trading Demo Account
Drag 'n Drop Trading
For the Visual Investor
Place Your Order Directly Onto The Chart.
Experience unprecedented precision with innovative On-Chart Trading
Immerse yourself in market action with direct on-chart order placement
Leverage intelligently designed trading tools for intuitive adjustments
Seamlessly switch between buying and selling as you navigate market price action
Unlock a user-centric trading experience with our feature-rich platform
Elevate your trading strategies with Track 'n Trade's visual edge
Custom Multi-Order OCO/OTO Strategies
User Definable One Cancels/Triggers Other Macro Buttons
Instant Execution.
Master Trade Management with Drag 'n Drop OCO & OTO Multi-Order Strategies: Elevate Your Trading Experience
Personalize Your OCO & OTO Orders with User-Definable Macro Buttons: Onscreen Drag 'n Drop Control at Your Fingertips
Experience Seamless Onscreen Drag 'n Drop Execution of All Order Types, Including OCO & OTO: Capture Every Market Opportunity
Revolutionize Your Options Trading
Drag 'n Drop Calls and Puts at Your Fingertips
Complexity Simplified.
Redefine simplicity in executing complex strategies
Enhance your trading capabilities with our visually intuitive platform
Simplify the execution of advanced options strategies
Gain real-time alignment of your strategies with underlying markets
Make informed, profitable decisions with our insightful platform
Embrace simplicity in navigating the complex world of options trading
CONTACT US FOR FREE DEMO
VOLFORT
DAY TRADING ORDER FLOW ANALYSIS SOFTWARE BY VOLFORT

VOLFORT™ is a development and research company founded by traders for traders. Our company made VolGraph™ fits with the world's leading traders, we know all of our competitors day trading platforms and we made VolGraph™ most accurate, precise and intuitive Bid Ask (Order Flow) Analytics software, in other words, you will get the best answer to your chart within a minimum number of mouse/keyboard clicks.

VOLFORT™ goal achieved by making the fastest, most accurate, easy to read and stable bid ask and order flow analysis software, called VolGraph™.
We invested our time and funds, and we managed to transform years of proven trading knowledge into the VAIS – Volfort Artificial Intelligence Servers, which sends the VolSign and VolBars signals directly to VolFlow – the world's most accurate order flow analysis day trading graph.

DESIGN
You may notice how beautiful the VolGraph™ order flow trading platform is, and that because we take design very seriously.
VolGraph™ starts with a beautiful colors and design, those colors let your eyes stay relax and your mind focus on making trading decisions.
If you look at competitors trading platforms you will see the known green and red color often, we made a research about colors theories to pick the right colors that will help us concentrate at trading, and NOT get tired from looking at the screens, and after a lot of tests we found the best color that day traders love.

VOLSIGN®
VolSign® is probably the reason you are here, and the best tool we made for order flow day traders.

VolSign® is part of the VolFlow®, day trading volume order flow analytics graph. VolSign® created to help us enter scalping trades, and with the help of VolBars® we catch an entire trend in the market before the retail day traders sees it on their charts.

VolSign® continuously updating and the VAIS VolSign® AI Servers learn faster than ever to upgrade trading strategies algorithms as market changes, this is very significant for the day trader's decision making.

VOLBARS®
The magic of VolBars® algorithm exist in every bar that opens during the trading day, in any bar we may see a change of direction in the market.
VolBars® is a powerful tool for short-term trading, can be found at the VolFlow® order flow bid ask analytics graph, help us take a profit or partial profit when it's opening a new bar.

This bar-type-trading-algo works like a charm with VolSign® order flow trading signals, we encourage you to try VolBars® yourself and follow the market reaction with the genius VolGraph-Player®, order flow trades player, so you can build your unique way of trading with this tool.

Professional Order Flow Trading Software by VOLFORT
VolGraph. See The Futures.

VolGraph™3 Professional
VolGraph™3 Professional is a premium order flow trading and analysis platform.

VOLFORT's goal achieved by making the fastest, most accurate, easy to read and stable Bid-Ask analysis solution, called VolGraph™.

VolChart®
VolChart® may known as candlestick chart, the goal was to make it fit with the world's leading traders, we know all of our competitors platforms and we made it way more accurate and easy to use, you will get the answer within a minimal mouse/keyboard clicks.
You may notice how beautiful VOLFORT's websites and the VolGraph platform, and it is because we take design very seriously in our research and development process.
VolChart and VolGraph start with easy to read colors and you can customize it and save templates or set your favorite palette as default.

VolSign®
VolSign® is probably the reason you are here. We invested our time and funds, and managed to transform years of proven trading knowledge into Artificial Intelligence.
VolSign® appears on trading order flow analytics, VolFlow®, above or below any bar type you choose.
VolSign® created to help us enter scalping trades, and with the help of VolBars® we catch an entire trend in the market before anyone sees it on their charts.
VolSign® continuously updating and the VAIS VolSign® AI Servers learn faster than ever to upgrade algorithms as market changes, this is very significant for the trader's decision making.

VolBars®
The magic of VolBars® algorithm exist in every bar that opens on the order flow trading, VolFlow®, during the trading day. In any bar that opens we may see a change of direction in the market.
This powerful tool for short-term trading help us take a profit or partial profit when it's opening a new bar.
The next GIF Video shows that our servers are identifying weakening of the sellers on the market, and a new bar will open if it ranked as reliable exhaustion.
This algo works like a charm with VolSign®, we encourage you to try VolBars® yourself and follow the market reaction with the genius VolGraph Player* so you can build your unique way of trading with the best order flow trading tool.

VolGraph™ Player
VolGraph Player is the first tool we developed, and that because we just was frustrated without it.
This genius tool will make your order flow trading much easier to understand.
If you are a professional order flow trader you'll probably ask "Why I've never seen it before?". This tool will let you go deep level of investigate the market and mostly review your trades in a way that didn't exist before the player has 3 modes:
1. Play trade after trade one by one. The big slider will change the speed of playing.
2. Play the market as is, in other words it will play the data history like it is real time, perfect to watch market reactions in high volume. the small slider will change the time interval, e.g x2 will replay 2 seconds of data in one second.
3. Simple button that ends the history playing immediately and sync with real time order flow trading data.


CONTACT US FOR FREE DEMO
Volumetrica
Main Features
Volumetrica Trading offers professional trading and analytical platforms designed for order flow analysis, developed by a group of individual traders.
They have all you need for fast and convenient market evaluation – Adv. Time And Sales, Adv. Chart, Correlation Viewer and HFT algorithms tracking. Our platforms process the order flow data and display it in an innovative and intuitive way.
We also allow users to trade the market directly to our platforms. We provide one-click chart and dom trading in order to help scalper and day traders.
VolSys offers the most powerful indicators (Volume Profile, Order Flow Analyzer, etc) in order to understand the market movements through the volume analysis, while VolBook offers an innovative way to view the depth of the market.
Charts
Time, Range X, Volume, Tick, OrderFlow and VolBar charts
Clustering of data. Each bar can be viewed "from the inside" (it can be seen what volumes, bids, asks, deltas were on each price of the given bar)
Linked object charts In any chart, you can easily view graphic objects such as trend lines, retracements, fan lines and more, of any other chart in the workspace
Display of large market spikes in the chart. It is possible to create any number of filters for orders which will be displayed in the charts. (BigTrades Indicator)
Automatic grouping of the ticks that make up the Volume Profile and the OrderFlowBars, for an immediate and intelligent visualization of Big Players interest points
Bar chart of volumes with the possibility to choose initial and finite interval (display options: Volume, Trades, Bid-Ask, Delta, Icebergs).
A whole range of innovative indicators allowing transformation of order flow into a comprehensible form, easy and clear for visual perception.
Dom and Chart trading
Our platforms are built for scalp-intermediate traders, so we have developed a one-click trading from chart and dom.
We also allow user to build custom OCO strategy (Order Cancel Order), in which way you can break your position in small pieces and close them at different prices
We also provide an internal simulation where our customers can simulate order and strategy; since we think that simulation is very important for traders, we have made a big effort in order to build a simulation as much real as possible and we can say that on the most liquidity instruments, the profit and loss and the execution are realiable at almot 95%.
Replay Tick Data
Along with the simulation, Replay tick data is also an other important features because it allows trader to review past days in order to understand their errors on the market; it also very usefull for case study because you can view past days as you were in realtime, with different speed and simulate on past days too.
Heatmap
VolBook® offers an innovative way to view the depth of the market. Book liquidty chart helps traders to identify support and resistence book zone.
You can also view buyers and sellers acceleration thanks to Volume Bubbles indicator.
Chart Dom
To help scalp traders, we have developed a chart dom where you can insert orders directly from chart with only one click.
You can also attach oco strategy at each order to customize stop and target prices
CONTACT US FOR FREE DEMO
Volumetrica
Simple Charting Software
Is your charting software too complicated to setup or use?

Does it require you to do a fresh setup on every rollover?

Are you having technical issues but have to wait till evenings to call overseas support?

Are you able to do playback in a simulated trading environment?

VXCharts is a one-touch button charting software designed by traders for day traders like you. Our charting software is simple to install and design for traders who want uncompromised reliability and real time live data.

Using VXCharts means that you do not need to deal with complicated technical setups and system updates. We automize everything, making it a breeze for traders like you - so that you can focus on your trades and leave the technical part to us. Because we are based in Singapore you can be assured of prompt local support if you ever need help.

VXCharts software is especially co-developed with our partner Concept Of Price and customised for students who have learnt their trading strategies. Whether you are an experienced, active trader or exploring trading you can find out more on how you can optimise on this trading advantage
CONTACT US FOR FREE DEMO
OVERCHARTS
Analyze and Trade the markets using Professional Tools
Tick/Volume Analysis
The tick/volume analysis package includes a series of indicators and tools that are essential to understanding market movements in advance. For example, Volume Profile shows the volume traded at particular price levels, highlighting if there are more buyers or sellers.
Available: Volume Profile (intraday, session, composite, range, day, weekly, monthly, and additional column on DOM), TPO Profile, Volume Delta, VWAP, Volume Meter, Volume on Bid/Ask, Session Statistics and more.
TPO Profile
TPO Profile (a.k.a market profile®), is similar to volume profile. Time-Price-Opportunity (TPO) shows the price distribution during the specified time and highlights at which levels the price has spent the most time.
TPO profile is generally used in conjunction with volume profile to better identify areas of support and resistance.
Volume Ladder
The Volume Ladder (aka footprint) is one of the most important indicators of order flow analysis. It displays Volume, Bid/Ask, Delta and other volume statistics together inside each bar.
Unlike traditional bar or candlestick charts, the volume ladder combines Price, Volume and Order Flow all in one. Acceleration, deceleration, absorption, bid/ask volume levels, delta and lots of other information into a single intuitive chart.
Market Depth Map
More and more traders are using Market Depth while conducting volume analysis. Its main function is to help traders identify potential levels of support and resistance.
The indicator only works in real-time with limit order book (DOM data). Initially this indicator does not display historical data. Overtime, as the indicator is running, real time data is collected and displayed on the screen. The color of each price level changes according to the number of orders sitting at that particular level. The higher the volume, the greater the intensity of the color. This type of coloration, also called a heatmap, is very efficient in identifying potential levels of support or resistance.
Multiple Workspaces
Organize your trading and chart analysis into multiple workspaces. Overcharts uses intensive multi-threading for chart calculation and refresh. This means that each workspace is updated independently and at the same time.
Each workspace can be placed in a different monitor and contain different DOMs, Watchlists, Time & Sales, Charts, etc.
Chart analysis
With a 4k Ultra-HD graphics engine, Overcharts offers the ability to make the clearest and most immersive trading experience ever. Analyze the market with many different types of charts, such as Candlestick, Bar, Line Equivolume, Candlevolume, Point & Figure, Kagi, Renko, Three Line Break, Heikin Ashi, Dot on Close, Volume Bar, Range Bar, Reversal Bar and Trend Hollow Candlestick. Overcharts also has all common indicators available that can be plotted on the charts, along with the ability to plot charts of other instruments on top of existing data with any resolution.
Each chart (or data series) can display up to 100 million bars on a 64-bit operating system.
Advanced Drawing tools are available: Trendline, Fibonacci, Elliott, Pitchfork, numerous Channel types, Measurement tools and many others.
CONTACT US FOR FREE DEMO
Our Trading Platforms:
QST ChartsCQG QTraderMulti ChartsSierra ChartsMarket DeltaPTMCATASVolfixeSignal